North Pole Expedition April 7 - 15, 2005
Dick's Itinerary
April 8 , 2005 - Fly from Washington to London to overnight in Oslo
April 7th, 2005 – Fly from Oslo to Longyearbyen with GEA's guide Jeff Dyrek.
April 8th & 9th, 10th- Others arrive and we tour the area were provided our arctic parka, snow pants, and North Pole extreme boots.
April 11th (3 AM) – We took a 2 to 3 hour flight on the Antonov-74 jet aircraft to the drifting ice base "Barneo". Stowed our gear in the tent quarters. Then boarded an M-8 helicopter for the flight to the North Pole.
April 12th , 13th - We walked around the drifting ice base taking pictures, and rode the dog sled.
April 14th – Returned to Longyearbyen to on the Anotonov-74, viewing the polar ice cap and the Svalbard archipelago
April 15th – Longyearbyen buying souvenirs
April 15 - Return to home, via Oslo and Frankfurt to Washington.
Polus map of North Pole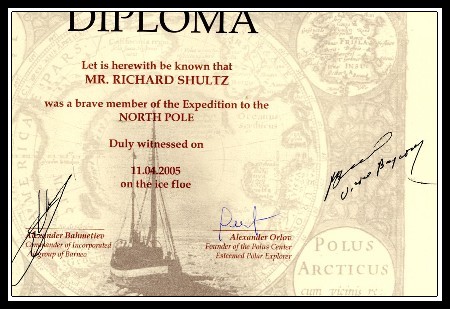 Dick's Certificates of the expedition to the North Pole
To view pictures of the North Pole 2005 trip select:
Photos have been provided by:
Dick Shultz
Peter Baker
Van Gauby
Randy Peeters
Music is Vivaldi's Four Seasons (Winter)